A month ago, Western Governors University in Utah celebrated a nice milestone: its 250,000th graduate, who rose from homelessness to earn her degree and launch a career in human resources.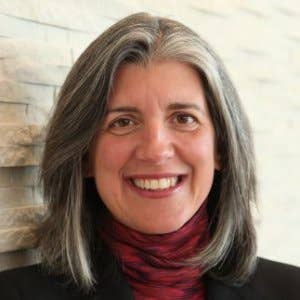 Success stories like those are not unusual at WGU, a fully online institution started in 1997 that is highly regarded for its personalized educational model, its flexible curriculum and its ability to reach those who might otherwise miss out on postsecondary education.
"Between 65-70% of our students are classified as under one or more underserved learner categories. They are the students we are designed to serve," says Dr. Marni Baker Stein, Provost and Chief Academic Officer at WGU. "The largest majority of those students are working full-time while they're going to school. They're caretakers for their families, low-income students, students of color."
WGU's appeal as being affordable, accessible and powerful in connecting learning to career paths has struck a chord with students. During the COVID-19 pandemic, while most institutions were struggling to hit enrollment targets, WGU has grown its base by 7%. Its transfer numbers have been even better at plus-18% in the fall of 2020 and plus-14% in spring of 2021, according to data from the National Student Clearinghouse Research Center.
As students seek quicker avenues to certificates and completion—and the job market embraces it—the once-negative stigma around online-only institutions has eroded. Arizona State University's ASU Online, Southern New Hampshire and WGU have proven to be powerhouses in a crowded higher education field where survival is a struggle. "The reason we're maintaining growth is that we are designed to serve the working learner with high-impact, high-value degrees and credentials that drive their social and economic mobility wherever they live," Baker Stein says. "That value proposition, and commitment to the student experience and student attainment, is why we still have learner populations coming to us."
Always evolving
What makes WGU so unique is that it provides ever-changing class experiences through its four colleges: IT, Business, Health and Teachers College. In the past year, Baker Stein says WGU has made 200 revisions alone to programs based on their relevance and meeting workplace demand.
"We do understand the marketability of those competencies and those credentials at a very refined level," she says. "We evolve those programs, we revise those programs, sunset programs and launch new programs that are better aligned with that demand and that relevancy. We can be that nimble because we are a master curriculum institution. Our curriculum isn't a series of discreet courses owned by individual faculty. It is a designed total experience. That allows us to respond in a very agile way to demand in the employer marketplace."
Among its many initiatives that serve its 129,000 full-time students, WGU has a learn-to-earn pilot called the Achievement Wallet project that is "surfacing" just-in-time personal career insights to help them move through degree programs while working on their careers, as well as doubling down on nondegree, short-form credentials. That is crucial, as 84% of its student population is already working.
"In our IT degrees, we have always had anywhere from 5 to 13 third-party stackable certifications built in," she says. "As you're getting your degree in computer science or cybersecurity, you're getting highly sought-after professional certifications. We've seen how critical that is to students and their behavior. Some of them get one of those certifications and want to get a promotion or get that next certification."
The allure of online
If ever a case could be made for online-only, it has come during the pandemic. WGU faced challenges but sailed through it well, both in terms of course delivery and student support, while traditional schools scrambled to figure out physical campus spaces, high-cost mitigation strategies and distance learning.
"I can't imagine how some of the traditional institutions that I have great respect for handled it in the timeframe that they did because they don't have a digital campus," says Baker Stein, who previously worked at the University of Texas, Columbia University, the University of Pennsylvania and UC-Santa Barbara. "They don't have a student lifecycle infrastructure that's online and online access to their support services. I hope they've learned big lessons around the need for digital infrastructure for the future of higher education, regardless of whether they're going online or not. Transformation is long overdue."
But it won't come easy, especially when it comes to course delivery, although many are trying. "It would be difficult to be as nimble with curriculum because there isn't a centralized group looking at the design of an entire program. You evolve it one course at a time," she says. "That's a critical point of differentiation about WGU. It's very attractive to students because they know as they're moving through a program, they're earning competencies. With every success, they're gaining incremental value."
Because of demand, Baker Stein says the shift has to occur.
"This is an opportunity not just for taking incumbent models and practices online," she says. "This is an opportunity for the digital transformation of education. We should be reconsidering every aspect of our design, not just digitizing what we're doing today in traditional education. There are amazing things you can do with learning assets in the digital space from a pedagogical perspective. Let's get beyond lectures and classroom-based activities and drive into the future of a digital experience that can be incredibly powerful for students, especially for students who are stuck in locations and places and life situations where they don't have the windows that perhaps some of our young undergraduates going to Research I universities have."
Baker Stein says institutions should consider three questions as they consider more online options:
"How do we rethink the community of care for students in the digital space?
How do we rethink what a mentor or an advisor is, what a course instructor is, what a service center is?
How can we rethink our business model and the structure of that critical student-facing team in ways that allow for us to be more flexible, more scalable and more powerful in terms of how we support students with services. That's something that is rarely considered by traditional organizations as they go online. But yet, it's such an opportunity to rethink for this new modality."