How high can Wisconsin's Moon Shot for Equity take higher ed?
Four colleges and universities will follow new strategies and training to close achievement gaps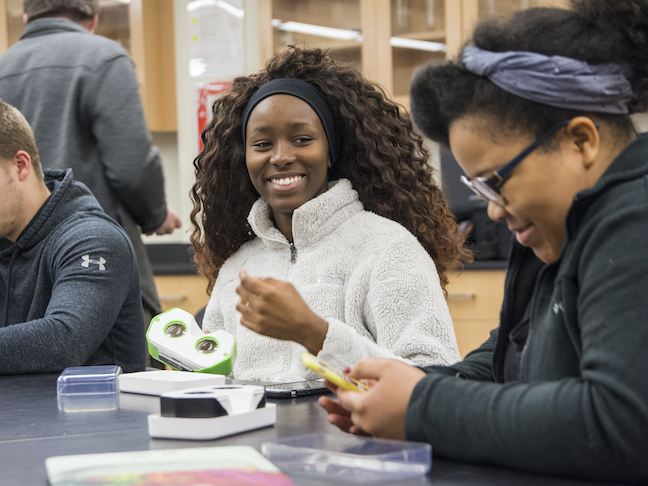 Black high school students in Wisconsin experience the largest achievement gap in the nation, and their Hispanic classmates are almost as far behind.
That's why two public universities, a private institution and a community college have banded together on a national Moon Shot for Equity to attempt to close those gaps.
The University of Wisconsin-Milwaukee, the University of Wisconsin-Parkside, Milwaukee Area Technical College and Carthage College will begin to implement strategies that have proven to remove systemic barriers to student success at other higher ed institutions.
All faculty and staff at these four institutions will also be trained in equity-mindedness.
---
More from UB: Liberal arts colleges band together on racial equity
---
"Wisconsin is dead last in the country in the high school equity gap for Black students, and in the bottom seven of all 50 states for Hispanic students," UW-Milwaukee Chancellor Mark Mone said. "These gaps continue into higher education, and we find this unacceptable."
More than half of white students in the seven-county Milwaukee region earned a college degree or certificate within six years in 2020, according to Wisconsin's Higher Education Regional Alliance.
Moon Shot Mentors
Wisconsin's Moon Shot schools will be guided by national mentors Houston GPS and Georgia State University, both of which have done pioneering work in closing equity gaps.
The four institutions will also work with the education firm, EAB, to track data, implement technology and develop new solutions.
But only 32% of Hispanic students and 20% of Black students completed degrees or certificates in the same time frame.
The four institutions will also work with local high schools and community organizations to guide more underserved students toward college.
At U-W Milwaukee, the Moonshot for Equity will launch with equity-mindedness training for staff and faculty and climate assessments, Vice Provost Phyllis King says.
The college will also explore how to bolster advising, transfer pathways and financial aid such as retention grants to keep students from leaving school.
"Higher education has, in some ways, looked at students who are lower on the performance scale with a deficit mindset," King says. "What we intend to do with this initiative is really look at the institutional barriers our students face."
Click on the photos in the slideshow to see how three of the schools are embarking on the Moon Shot for Equity:
---
More from UB: Here are the 5 soft skills employers demand most
---