How campuses keep research going during the COVID summer
Hope College is bringing students back to campus while other schools continue research online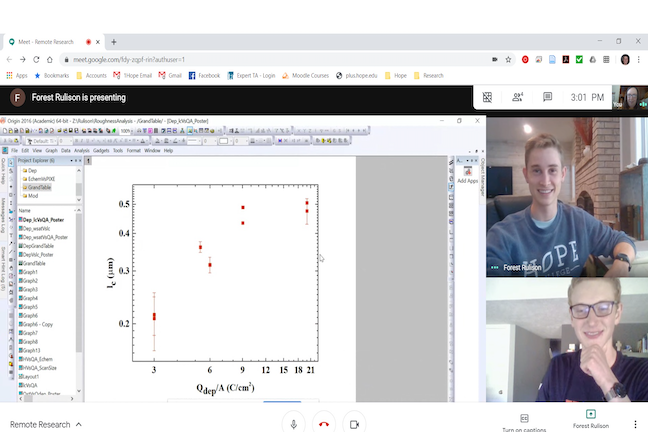 The continuing coronavirus outbreak has not shut down all undergraduate summer research on campus—Hope College in Michigan is one example.
The college is bringing back 120 students and 115 faculty members this month for its Summer Hope Academic Research Program, or SHARP.
"We have worked hard to support and implement on-campus research this summer because our undergraduates are not visitors to the laboratory—they are the critical, essential personnel in conducting research activity here at Hope," Associate Provost Dr. Gerald Griffin says on the college's website.
Students began the summer conducting their research and meeting with faculty virtually, which including learning how to use some new software platforms.
---
More from UB: Why 4 more colleges will cap number of returning students
---
Students are researching alternative batteries and how to teach chemistry online, among other topics.
"There's been a big push to recognize that our research may not be as productive as usual, meaning we might not get those papers out, we might not get those publications done," Justin Shorb, an assistant professor of chemistry, says on Hope's website. "But this is still one of three summers for our research students in their undergraduate career."
Undergraduates adjust to remote research
St. Olaf College's in Minnesota has moved its Collaborative Undergraduate Research and Inquiry program online this summer.
Some 77 students and 27 faculty members are participating in the program, conducting research in the humanities, arts and sciences.
"Our goals this summer remain the same: we want teams of students and faculty to pursue meaningful research projects relying on robust methods and practices as appropriate for their field," program director Kathy Tegtmeyer Pak, an associate professor of political science and Asian studies, says on St. Olaf's website.
The shift online has forced some students to adjust to analyzing prior data rather than conducting novel lab or field experiments.
---
UB's coronavirus page offers complete coverage of the impacts on higher ed.