UC San Diego plans to snuff an outbreak before it starts
Testing asymptomatic and symptomatic individuals is crucial to UC San Diego's "Return to Learn" reopening plan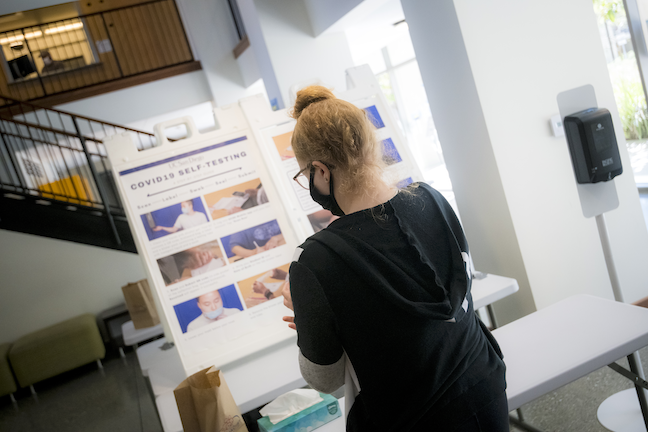 Free and regular coronavirus tests will be offered to students, staff and faculty at the University of California, San Diego, this fall as the school plans to open residence halls and hold 30% of classes in-person.
Testing asymptomatic and symptomatic individuals is crucial to UC San Diego's "Return to Learn" reopening plan, says Christine Clark, the assistant director of university communications.
University simulations indicate that if more than 75% of its population is tested each month, an outbreak can be detected before there are 10 infections on campus.
"Higher testing frequencies are recommended for populations where social distancing is difficult or who are at higher risk of infection," Clark says. "Through the implementation of strategies for adaptive testing, tracking, tracing and isolation, the goal is to lessen the likelihood of a significant outbreak on campus."
---
More from UB: How to reconfigure residence halls for the COVID-era
---
In May, UC San Diego conducted a pilot program during which 1,500 students living on campus during summer school voluntarily took self-administered coronavirus tests at several campus locations.
They then used a smartphone app to scan the barcode on their specimen collection container and left the test in a collection box. While none of the tests were positive, the program convinced university officials that widespread campus testing would be feasible for the fall semester.
Fall semester coronavirus control
As part of "Return to Learn," students will first be expected to participate in coronavirus testing during move-in. Arrivals will be staggered to ensure university labs have the capacity to process the tests.
International students will have to quarantine before they start classes.
If an individual tests positive, they will be isolated and their contracts will be traced. All students living on campus will also be urged to screen themselves forCOVID-19 symptoms each day.
"Our adaptive model considers the most current science on transmission and infection risk and will drive our determinations on the testing frequency of our various campus populations," project lead Natasha Martin, an associate professor of medicine at UC San Diego School of Medicine, said in a news release. "We wanted a simple, easy testing process which can be delivered at scale in the fall to ensure widespread testing for early outbreak detection."
---
More from UB: Why managing risk—and panic—is key to keeping colleges open
---
In-person classes will be limited to fewer than 50 students per class or 50% of classroom capacity, whichever number is smaller. Many in-person classes will have fewer than 25 students while large classes will be conducted remotely.
The university intends to offer more than 4,750 lecture, lab and discussion course sections.
"We aim to mitigate risk in a way that will allow UC San Diego to provide an environment for learning and offer a university experience that our students expect," Chancellor Pradeep K. Khosla said in a statement.
---
UB's coronavirus page offers complete coverage of the impacts on higher ed.