How to provide 24/7 counseling for college students
'Isolation is a petri dish for bad mental health,' University of North Georgia counseling director warns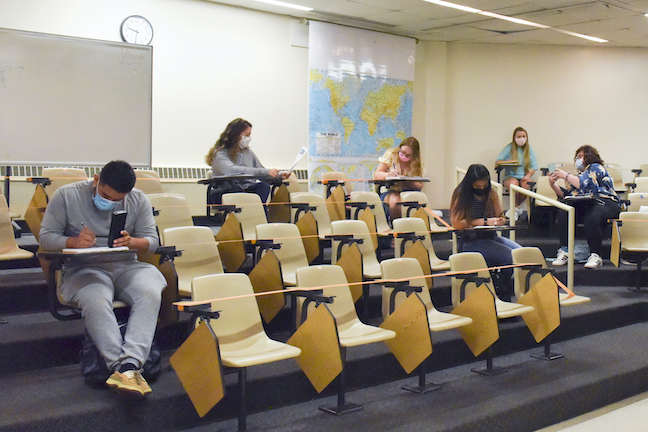 The University of North Georgia is expanding counseling services to around-the-clock care as student mental health issues have been exacerbated by the ongoing pandemic.
Before the pandemic, counselors at the university were already seeing a substantial increase in students' seeking care. Demand for service grew by 40% from 2015 to 2020, says Simon Cordery, director of student counseling.
Even more troubling, the increase in students struggling with suicidal thoughts surged by more than 400%, Cordery says.
It's part of a mental health crisis brewing on campuses across the country, a crisis that has worsened during COVID as students grapple with more severe anxiety, depression and isolation, he says.
---
More from UB: 4 ways to stop campus counselors from burning out
---
Students are worried about succeeding in online learning and whether they can afford to stay in schools. They also are facing fears about jobs, finances and their health during a time of political volatility.
And when students are cut off from friends, they are more likely to engage in harmful behaviors, such as heavy drinking.
"We have a situation that's really hitting students from all sides," Cordery says. "One of the things that's most concerning to me is the increased isolation students are struggling with—that isolation is a petri dish for bad mental health."
Mental health solutions
The state of Georgia has provided emergency funding to expand counseling at all 26 institutions in the University System of Georgia.
North Georgia is using its share of the funds to launch the "Nigel Cares" initiative, which is named after the school's mascot, Nigel the Nighthawk.
Students now have access to a 24/7/365 mental health support line operated by Christie Campus Health. This allows students to seek immediate help outside the regular operating hours of the campus counseling center.
Students can now talk to a counselor online about issues like roommate conflicts and failed tests before they become "bigger problems," Cordery says.
Students not experiencing "life and death" situations might normally have to wait two weeks for an appointment at the campus counseling center, he adds.
Through Christie Campus Health, students are entitled to five virtual counseling sessions at no charge. After that, they may be referred to campus counseling, which is also free, or an outsider provider they would bill the students' health insurance.
Students can also get medication through a telepsychiatry service. Cordery points out there is a shortage of psychiatrists in the neighborhood where the university's five campuses are located.
---
More from UB: Digital self-harm—What is it and could it be on rise?
---
Students can also find self-care tips on the counseling center's website.
Confronting suicide
All schools in the University System of Georgia are all working toward becoming "Jed-certified" a suicide prevention program developed to "save lives" by the nonprofit Jed Foundation, Cordery says.
"It's the gold-standard for suicide prevent because it's a campus-wide effort," he says. "It enhances and educates the entire community to help reduce the potential number of suicides."
Students, faculty and staff who have been preventing from interacting in person due to COVID has been able to keep in touch virtually, but it's not sufficient, he says.
"It's better than noting but it really doesn't' replace the need to be around other human beings," Cordery says. "We are very social creatures; our main drive is relationships."