Reopening campuses safely for fall 2020 is No. 1 priority
Beloit College in Wisconsin will split fall 2020 semester into two modules of two courses each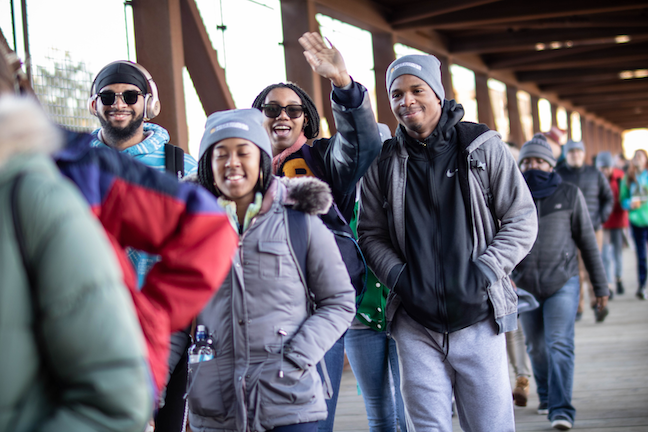 Beloit College hopes students will be able to attend class in-person and live on campus in fall 2020, but leaders have a plan for online learning and other contingencies should the school need to change gears quickly.
That flexibility comes from the Wisconsin college's plan to split the fall 2020 semester into a pair of seven-week "modules" during which students will take two courses each, Provost Eric Boynton says.
"We're treating this year as an experiment that's designed not just for COVID but to give students more flexibility during their days," Boynton says. "Our aspiration is to be in residential mode, but we're ready to pivot in any way that's necessary."

The module model, which will also be in place in spring 2021,  creates a "hinge point" in the middle of a semester that allows the school to shift between in-person and online learning as circumstances dictate.
---
More from UB: COVID-19 and the future of college sports
---
The idea originated several years ago at Beloit but was never put into practice. The thinking was that students only taking two courses have more time to participate in internships, career-focused programs, and other co-curricular activities, Boynton says.
Dorms and dining halls in fall 2020
Beloit will flip courses of more than 30 students this fall. Lectures will be posted online while students will meet in small groups of about 10 for discussions with instructors.
Administrators also want incoming and returning students to live on campus. And the school is prepared to provide everyone with a single room in the residence halls, Boynton says.
To further preserve social distancing, lunch and dinner hours will be extended while only a certain number of students will be allowed to eat together at the same time.
The school is also freezing tuition at what all students are paying now, and says it will match the tuition of flagship institutions for students in five surrounding Midwest states, Boynton says.
"This COVID moment is going to have a real effect on families—the economic downturn is real and potent," Boynton says. "We want to innovate but we also want to be caring and focused on students and their families."
COVID testing and contract tracing on campus?
As the health of students and communities will be the top priorities, administrators may not have total control over their fall 2020 plans.
---
More from UB: Will all college campuses reopen in the fall?
---
Campus leaders will likely be making decisions with the guidance local and state officials, says Barbara K. Mistick, president of the National Association of Independent Colleges and Universities.
"I've been in touch with hundreds of presidents in the last week, and their No. 1 priority is getting students back on campus," Mistick says. "But it's complicated. There are so many different decision points."
Along with offering single rooms in residence halls, colleges will likely have to conduct coronavirus testing—not only when students return, but throughout any in-person semesters, Mistick says.
College staff may also find themselves having to trace contacts of students or others who fall ill.
On the academic front, some colleges are considering inviting seniors back first to keep them on track toward graduation.
Other schools may not even hold a fall 2020 semester, but run two tighter semesters that start in January and run into the summer, Mistick says.
"The best decisions is one that's institutionally driven," she says. "If you have the capacity to move to a block schedule or a quarter system, this is a good time to experiment."
---
More from UB: State funding cuts hit as higher ed pushes for more stimulus
---
Financially, there will be "pockets of vulnerability" among some small private schools and regional public institutions trying to survive the crisis.
For example, Mistick says she recently spoke to a school that generates 15% of its revenue from a study-abroad program that may not return any time soon.
"For institutions that have tried a number of different things but haven't really hit a stride, that's going to be really significant when they have an assault on all their revenue sources at once," she says.
---
UB's coronavirus page offers complete coverage of the impacts on higher ed.